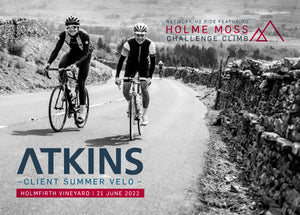 Atkins Client Summer Velo - Holmfirth Edition
Atkins Client Summer Velo Holmfirth Edition is an exclusive INVITATION ONLY business networking ride for clients of Atkins.
WHEN: From 8:30am on Tuesday 21st June 2022
WHERE: Holmfirth Vineyard, Woodhouse Lane Holmfirth, HD9 2QR
ON THE DAY
Pre-ride networking over tea/coffee and pastries 

Networking group route

Challenge climb on Holme Moss

Expert ride leaders chaperone you throughout the ride

Choice of groups for varying abilities 

Pro support car escorting you and offering nutrition, spares, tools, etc
Roving mechanic 

Nutrition and hydration stop

Post-ride buffet lunch
THE ROUTE

The route takes in gentle rolling terrain offering stunning views and nothing too challenging, making it an ideal networking ride. Once back at Holmfirth Vineyard you'll have the option to tackle our hill climb challenge on the infamous climb of Holme Moss. 
THE RIDE

Our expert ride leaders will guide you along the route so you can relax and continue to network. We'll ride in groups based on ability, with our ride leaders controlling the pace and making sure no one will be left behind. 
THE SUPPORT 
Our support car and roving mechanic will be supporting throughout the ride, ensuring no one suffers a mechanical failure and everyone completes the ride. We can also grab extra sports nutrition, snacks and water from the back of the car - just like a pro. 
LUNCH
We will deserve our lunch once we return to Holmfirth Vineyard. Their team will serve up a gourmet buffet that we can relax and enjoy out over the stunning scenery.