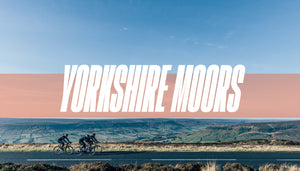 UK Cycling Staycations in the Yorkshire Moors
Hassle-free, expertly curated cycling trips in the Yorkshire Moors for cyclists - by cyclists. 
What's Included in your Stay?  
Our cycling staycations are ideal for road cyclists looking for a hassle-free, perfectly curated trip featuring top bike-friendly accommodation and the best cycling routes designed to match their needs.
  Accommodation: Expertly selected accommodation, ideally located to explore the best cycling routes. 
  Breakfast: Cyclist's brekkie to fuel you pre-ride.
  Custom GPX Routes: Designed around your ideal days out on your bike. 
  Recommended Cafes: To fuel up midway around your routes. 

  E-Road Book: Detailing your hassle-free trip. 
Prices From £79pppn*
*based on two people sharing
Why Come Cycling in the Yorkshire Moors? 
The Yorkshire Moors offer countless amphitheatres of vast purple Heather-clad landscapes. North Yorkshire Moors are also home to some of the most iconic cycling climbs that must be ticked off by any aspiring cyclist. 
Expansive landscapes between challenging cycling climbs is why our Struggle Moors sportive has been named one of the most challenging in the UK. 
The Moors aren't all killer climbs; the adjoining Yorkshire Wolds, Howardian Hills and the nearby East Coast of the Country offer a fantastic diversity of rides.  
Why Book a Staycation with Struggle?
As Yorkshire's leading cycling events company, Struggle Events are experts in cycling in the Yorkshire Moors. We're the locals! And we have the best knowledge of cycling in Yorkshire. 
It's no wonder the Tour de France came to visit Yorkshire and its legacy race, The Tour de Yorkshire, is still going strong. We also hosted the UCI Road World Championship - with Struggle Events named the Official Cycling Tour Guides. Get in touch to start building your bespoke cycling trip to the Yorkshire Moors.
Our cycling staycations in Yorkshire offer a hassle-free curated cycling experience by Yorkshire Moors cycling experts.
Bike-Friendly Accommodation 
Our recommended bike-friendly 4 star hotels and guest houses have been expertly selected for their location, quality - and they are, of course, cycling friendly.
We ensure you have all the comforts and facilities a cyclist would need, but you're also ideally located to get straight out onto the best cycling roads the Yorkshire Moors has to offer.
*Image for illustration purposes. 
Best Cycling Routes

As experts in the local area, we know the intricacies of the Yorkshire roads better than the lines on the palm of our hands.
We ensure you're taking in the best cycling routes, the most iconic Yorkshire climbs and all the stunning scenery - without missing the best bits.
Our routes are designed to suit you experience, ability and desired mileage. Just enquire today to chat about your ideal cycling staycation. 
Enquire & Book
To enter your enquiry please click the button. A member of the team will be in touch to organise your stay.