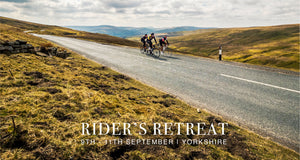 Luxury Rider's Retreat in Yorkshire
The Yorke Arms | Pateley Bridge
|

Yorkshire 

|

9th - 11th September 2022

Join us for our inaugural Rider's Retreat luxury 5 star cycling break held in the heart of Yorkshire at The Yorke Arms, Pateley Bridge.

The Yorke Arms will be opening the doors to their exclusive venue to host a special cycling weekend that pays homage to the best of Yorkshire by bike.

We'll take you on some of the best cycling roads in Yorkshire and tackle some bucket-list climbs. Off the bike we'll enjoy gourmet food and relax in the countryside. Together with The Yorke Arms, we've devised a thrilling weekend for you to ride like a pro then relax and dine like a king.
Stage 1
Arrive at The Yorke Arms on Friday 9th September for tea, coffee, and breakfast sandwiches, served in the bar and lounge from 8.30am - 9:30am.
Meet your fellow riders, guides and support crew, listen to the road briefing and get ready for stage one of our Rider Retreat.
Today's stage takes us over some of the regions most breath-taking climbs; both in terms of scenery and effort. We'll enjoy a well-deserved cafe stop in the spa town of Harrogate before enjoying the best of the areas quiet cycling roads back to Pateley Bridge.
88 KM / 55 MILES
EAT SLEEP REPEAT

Returning to The Yorke Arms, we'll feast on a gourmet BBQ, including dessert, where you can then enjoy The Yorke Arms grounds and surrounding area.
You may retire to your Yorkshire themed accommodation, enjoy drinks on the terrace, relax in the bar (open until 11pm) or explore the local area of Pateley Bridge.
Receive a goody bag, filled with cycling essentials and The Yorke Arms trinkets.
Stage 2
A full English breakfast will be served in the formal dining room from 8.30am–9.30am on 10th September.
Stage two is our Queen Stage, and the opportunity to make the most of the best cycling rounds around both Nidderdale and into the Wharfedale Valley. We won't be short of stunning scenery and challenging climbs in this area of Yorkshire.
En route we'll refuel thanks to a gourmet picnic by The Yorke Arms. We'll also enjoy a coffee and cake stop at the best cycling cafe this side of Yorkshire. Today's ride will certainly build up an appetite for the evening feast back at The Yorke Arms.
105 KM / 65 MILES
CELEBRATE POST-RIDE
To celebrate your achievements over the weekend, we have arranged for guests to enjoy a delicious 4 course dinner with wine pairing for each course.
The Yorke Arms team request your presence in the bar and lounge for a drink and canape reception at 7pm. Your hosted dinner will then be served in the formal dining room with champagne pairing for each course. The Bar will be open until 11pm.
A continental breakfast will be served from 8:30am – 9:30am before check-out at 11am on 11th September.
WHAT'S INCLUDED
Stage 1:
Pre-ride breakfast meet & greet & ride briefing 
55 mile fully supported ride
Cafe stop
Post-ride BBQ at The Yorke Arms
Overnight stay
Stage 2:
Pre-ride breakfast  
65 mile fully supported ride
Post picnic by The Yorke Arms

4 course dinner and wine 

Overnight stay 
Breakfast the next morning before check-out
£500pp
LIMITED PLACES! Book now.  Group rides for varying ability levels.