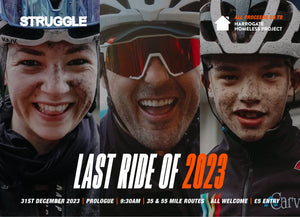 Last Ride of the Year 2023
The Last Ride of the Year is the chance to boost your annual Strava stats, round off your Festive 500 and start the New Year's Eve celebrations with a social blast on the bike.
It's also our annual event to raise money for the Harrogate Homeless Project, who are in great need over the cold and dark winter months. Please help us to support our amazing local charity by taking part. 
Where & When
Date: Sunday 31st December 2023
Time: Coffee served from 9am. Rides leaving from 9:30am
Where: Prologue, Wellington House, Cold Bath Road, Harrogate
The Routes
We have two great route options to choose from. The event is not signposted so be sure to upload the route to your computer. 
35 Mile Route 
https://ridewithgps.com/routes/31578632

55 Mile Route
https://ridewithgps.com/routes/31578672

We'll set off in groups of 16 riders, with groups for all abilities from 12mph to 20+mph. Fastest riders leaving first.
Entry Fee
Entry fee is £5. All proceeds go to Harrogate Homeless Project. No Entry No Ride! 
You can also donated any unwanted xmas gifts or donations (please read below for what to donate and what not to donate). Find out more about Harrogate Homeless Project
DONATING UNWANTED XMAS GIFTS 
Every year we also give you the opportunity to bring any unwanted Christmas gifts you received this year to donated to the Harrogate Homeless Project. Items needed by the charity include non-perishable foods, clothes and useful personal items such as toiletries and cleaning products. All items will then be donated to the Harrogate Homeless Project to help provide essential items for their residents and service users during the upcoming coldest months of 2024.
WHAT TO DONATE? 
Items such as UHT milk, coffee, tinned meats, sleeping bags, new underwear, men's deodorants, custard, rice pudding, sugar, laundry powder, toilet paper, olive oil, hairbrushes, nail clippers and cleaning products are all products we especially need.
WHAT NOT TO DONATE?
Although all items are gratefully appreciated, the hostel isn't in need of tea, pasta, soup, washing up liquid, tinned vegetables, cereal, hats, ladies sanitary pads, bedding and blankets. The also cannot take open food packages or home-cooked food at the moment. 
RIDE DISCLAIMER:
PLEASE READ! By signing up to this event I understand I am cycling at my own risk. I recognise and acknowledge that there are certain risks of physical injury and I voluntarily and knowingly agree to assume the full risk of any and all injuries, damages or loss that I may sustain as a result of said participation. I understand I must rely on my own ability in dealing with all hazards, must manage my own speed accordingly and must ride in a manner which is safe for yourself and others. By entering the event I agree that no liability whatsoever shall attach to the Struggle Events organisers or marshals in respect of any injury, loss or damage suffered by myself in or by reason of the event.I further agree to waive and relinquish all claims I may have (or which may accrue to me) as a result of participating in these activities against the Struggle Events organisers. I agree that I am solely responsible for determining if I am physically fit and/or skilled for the activities contemplated by this Assumption and Release. I am responsible for my own safety and I shall ride responsibly to ensure the safety of other riders and road users. I understand I am responsible for ensuring my bike is road worthy, properly maintained and equipped to ride safely. I attend all rides with the necessary equipment, cycling kit, spares and tools. I will wear a helmet at all times when cycling. I agree to obey the highway code and be conscientious towards other cyclists and road users. I agree to act responsibly and be courteous of other road users.