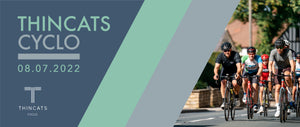 ThinCats Cyclo 2022 - Invitation Only
ThinCats Cyclo is an exclusive INVITATION ONLY cycling event on Friday 8th July 2022 for clients of ThinCats.
DATE: Friday 8th July 2022
LOCATION: Bowcliffe Hall, Bramham, Wetherby, LS23 6LP. Getting there >>
CHARITY: Cancer Research UK is the world's largest charity dedicated to saving lives through research, their vision is to bring forward the day where all cancers are cured. Over the past 40 years cancer survival rates have doubled, thanks to the great progress research has made. Your support will truly help us to beat cancer. You can find out more at Cancer Research UK.
ON THE DAY:

• Business networking over breakfast rolls & coffee at Bowcliffe Hall
• Fantastic 100km route on quiet, flat country lanes
• Structured group rides, helping networking to continue on the bike
• Choice of 3 ability groups with ride leaders
• Mid-ride cafe stop 
• Buffet lunch at Bowcliffe Hall
• Finisher's bottle & goodie bag  
About ThinCats
ThinCats likes to do things differently, and we pride ourselves on being able to deliver speed and flexibility for borrowers based on our expertise in SME lending with the certainty that comes from having substantial amounts of debt capital ready to deploy.The Cyclo enables us to share our alternative vision for funding SMEs throughout the region in the best way I know – from the saddle of my bike. Join us for an enjoyable and productive day in the saddle.
Find out more about ThinCats
RIDE

Join us from 8:30am on Friday 8th July 2022 for networking over breakfast and coffee at our exclusive venue Bowcliffe Hall. Our ride leaders will then guide you through the quiet, country lanes along a flat 117km route. We'll enjoy a pitstop at a cafe before heading back towards Bowcliffe Hall for lunch. 
LUNCH
En route we'll stop for coffee and cake and the chance to network with riders in different groups. Post-ride we'll then enjoy a gourmet buffet lunch back at Bowcliffe Hall.
VENUE
Situated just off the A1M, four miles south of Wetherby and close to both York and Leeds, Bowcliffe Hall is an ideal base for business meetings and events.