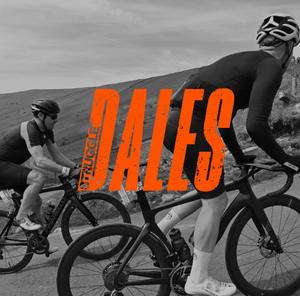 Struggle Dales Sportive, Harrogate Yorkshire, 19 May 2024
Struggle Dales is one of the UK's hardest sportives, set in the beautiful but brutal Yorkshire Dales landscape. Struggle Dales Yorkshire sportive isn't one to be taken lightly, but with prior training, grit and guts it's achievable for almost any ambitious road cyclists. New to Struggle Events?

Route
The Struggle Dales sportive route is 108 miles long, taking in 9,300ft over six climbs set within North Yorkshire's stunning scenery along the region's best cycling roads.
This year we're flipping Struggle Dales on its head and taking on the route from a different direction. This includes taking on the epic ascents of Trapping Hill and Malham Cove from the harder side, plus many more iconic Yorkshire climbs. 
Although there's some challenging uphill segments, there's plenty of fun segments too. Cycling Weekly reviewed it as: "One of the best sportive events in the UK." 
Climbs
This year Struggle Dales features 6 climbs including Trapping Hill and Malham from the harder side, plus many more iconic Yorkshire ascents.


Feeds
Struggle Dales features 3 feed stations stocked with optimal fuel, ensuring you're taking in what you need - when you need it most. There's scientifically proved Maurten gels and energy powder, super-tasty Veloforte bars, plus plenty of other snacks.
Finisher Jersey
Finisher Village 
The atmosphere is alive with post-ride banter and cheers of accomplishment. There's gourmet food vendors, a barista bar and beer on sale to allow riders to relax while checking their chip time and cheering in their friends, club mates and fellow Strugglers. 
Results
Struggle Dales is a timed event, providing a great personal challenge you can chip away at year on year to smash an annual PR for the course. Chip times are available instantly at the finish upon crossing the line. 
Struggle Dales 2023 Official Results >>
Photos
We pride ourselves in offering free event photography for all riders. Grit your teeth, give us your best pain face and create a shot worthy of a new bad-ass profile picture. 
Reviews
"This was my first struggle event and won't be my last. It was superbly organised from the moment you sign up. They always keep you informed on things; tips on getting fit and what to expect of the ride. I thought the express sign on the day before is a brilliant idea that way you just turn up on the day and you're off after a very informative briefing. The feed 3 stations are very well equipped and stock to give you all the nutrition to get you through a very challenging ride. At every climb there's always someone there to encourage you or aid you in anyway they can. I met some really good people during the ride which is always nice too. I've already pre-registered for next year and are looking forward to it immensely. Nice touch at the finish aswell with a medal and bidon, big thumbs up to the whole event and struggle team." - Paul Elstone
"Struggle Events say #bringcourage and this was fair warning for this year's Struggle Dales. Over the whole 108 mile course, through some of the most beautiful and awe-inspiring landscapes of Yorkshire, including 10,500ft of climbing, this event is brutal! Unlike most sportives I see advertised in the UK there's no 'easy/medium/hard' options. Here it's a choice of do it. Or don't. The Struggle Events team offer comprehensive advice and information ranging from details of each majestic climb to training and nutrition. Their social media feeds (particularly Instagram) are full of inspiration to motivate you through the winter ensuring that you don't write a cheque that your legs can't cash! The three feed stations stocked with OTE products keep you fuelled. I had a brilliant day out and am really proud to have taken part in this event. I massively recommend this event and have already pre-registered for 2019." - Tom Newman
"Best sportive I've ridden so far, and that includes big ones like L'Etape Wales. This is a classy event that will test you, but leave you feeling like you've been part of something special. A real rider's ride, it is well organised and has a great spirit." - Alastair Cooper