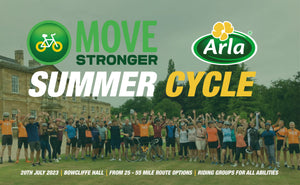 Arla Move Stronger Summer Cycle 2023
Date: 20th July 2023 from 11:45am-5pm
Location: Bowcliffe Hall, Bramham, Wetherby, Leeds LS23 6LP
Our Mission: Following the success of our inaugural Arla Move Stronger Summer Cycle, we're holding another big bike ride this summer. This is an event for everyone at Arla, for all abilities. It would be amazing if we could get over 100 people signed up. There will be no cost to you but there's an option to donate to our chosen charity Macmillan.
Yellow Route: 28 Miles
A round trip on quiet, flat lanes and traffic-free cycle paths including a cafe stop in Wetherby.
Red Route: 35 Miles
A flat route to our Arla Farm in North Rigton, followed by quiet lanes through quaint North Yorkshire Villages back to Bowcliffe Hall.
Blue Route: 45 Miles
A fantastic route taking you to the Arla Farm in North Rigton via the testing climb of Leathley Bank, followed by rolling, quiet roads back to Bowcliffe Hall.
Green Route: 55 Miles
A challenge ride taking in the notorious climb of Norwood Edge. Stop at the Arla Farm in North Rigton, followed by rolling, quiet roads back to Bowcliffe Hall.

Walk
Non-cyclists can still take part by joining us for a 10km walk around the stunning grounds of Bramham Park. 
Ride Support
We'll be supported by the passionate team at Struggle Events who are experts in supporting cycling events for all abilities.
The Struggle support car will be roving throughout, should you need any assistance while out on your bike. Their expert mechanic will also be roving on the route but will also be at the start to provide pre-ride bike checks. 
Ride Guides
We'll ride in different ability groups, accompanied by an expert guide from Struggle Events, who will support us along the way to direct the route and provide advice and support throughout. 
Cycle-To-Work Scheme
It is also a great reminder to let you know about the Cycle-To-Work scheme that allows you to buy a bike at a discounted rate. 
Very simply, Arla buys the bike/accessories and you pay it back through monthly deductions form your salary over between 12 and 24 months (sometimes longer).
These deductions are made from your gross salary, thereby reducing the amount of your taxable income and effectively reducing the cost of the bike to you.